Autonomous mobility already exists in Kelheim
The shuttle used in the KelRide project is a passenger shuttle that is the product of the technology company EasyMile. The shuttle "EZ10" offers space for more than 12 people and is equipped with a total of 6 seats.
The EZ10 shuttle is purely electric and can reach a maximum speed of about 20 km/h. The shuttle is equipped with an automatic boarding ramp. Additionally, an intuitively designed interior with wheelchair anchorage makes the service barrier-free.
A fleet of 3 automated shuttles will be integrated into the regular operation of the existing public transportation system in Kelheim by 2023. The service will be supervised by a safety attendant who can intervene in the driving at any time.
Fully autonomous vehicles that do not require a driver or attendant are not yet allowed to be part of road traffic in Germany. At present, autonomous vehicles with an autonomy level 4 or higher are permitted to be driven on private property or in specially approved test areas – however, this is set to change soon. Recently, the German government introduced a law that allows autonomous driving without a driver or attendant on public, designated routes and under specified conditions.
The shuttle is equipped with cameras, radar and laser measurements, and map data in order to orient itself on the route and navigate autonomously. The data recorded by the sensors and GPS are combined with the assistance of an algorithm, enabling the shuttle to act with millimeter precision at all times. This enables the shuttle to drive autonomously along a route programmed in advance.
How does the shuttle work?
Autonomous vehicles require a high level of information to function reliably. Therefore, they are equipped with a whole range of sensors.
The EasyMile software for driverless solutions processes the data collected by the sensors, analyzes it, and teaches the vehicle how to react to situations. The data fed by the sensors allows the vehicle to create a 360-degree picture of its surroundings, including infrastructure, other vehicles, pedestrians, and any other elements along the way.
In order to enable fully autonomous functions, a complex sequence of processes and a high level of artificial intelligence are required in the vehicle:

All the data collected by the sensors is combined in a fusion algorithm. With the help of this data, the vehicle orients itself with millimeter precision. Deviations or interruptions lead to a reduction in speed or even a stop.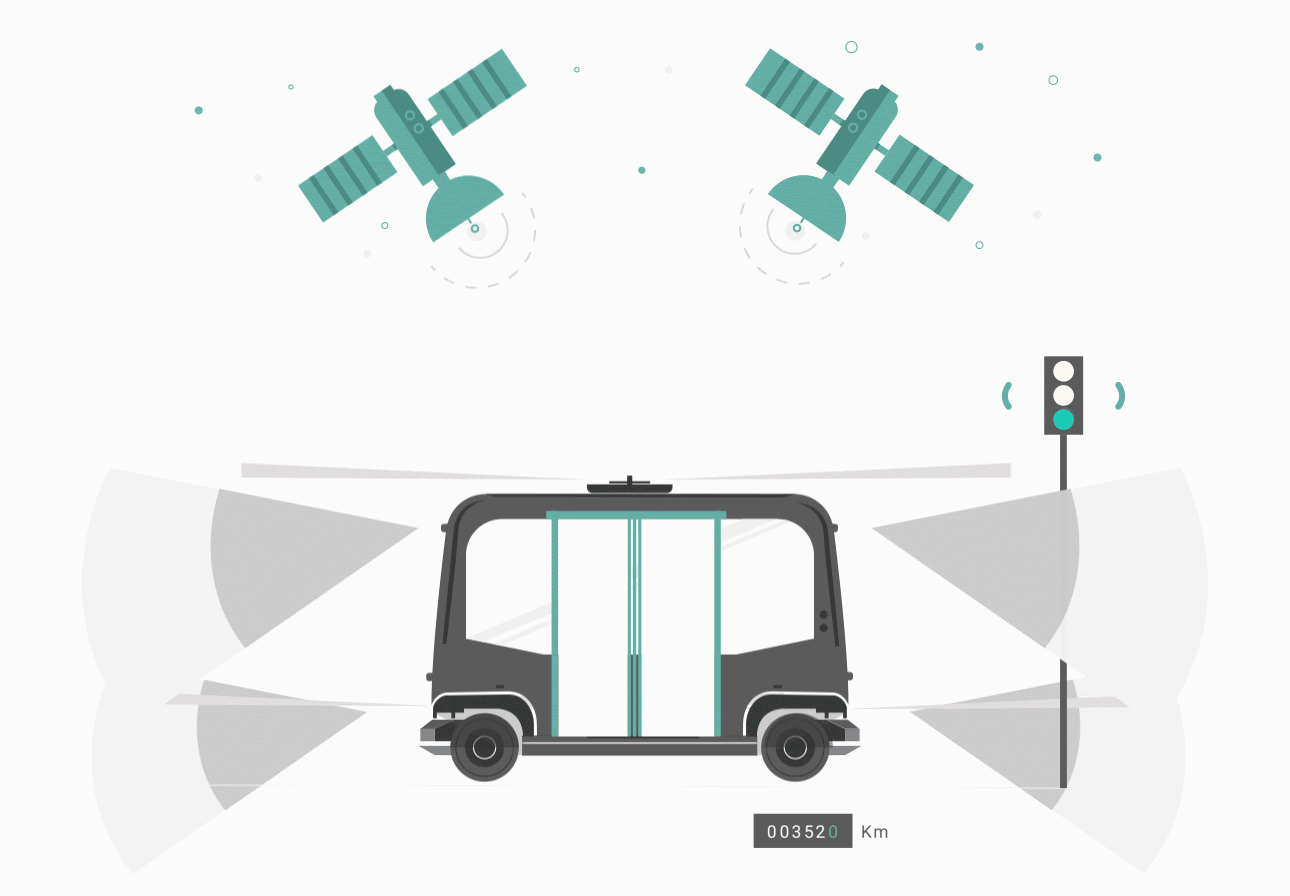 The shuttle travels along programmed routes, whereby potential obstacles are taken into account and trigger a "behavior" (e.g., at intersections or crossings).
The vehicle follows programmed maps and responds to obstacles with programmed behavior.

The vehicle is equipped with a number of sensors to detect obstacles as early as possible. When an obstacle is detected, the sensors capture the object and a behavior is triggered, e.g., to "slow down." When the shuttle has avoided the obstacle, the journey continues.